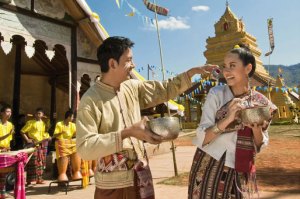 Where to go, where to go? I'm looking forward to not choosing - just hitting as many Thai spots as possible. I'm a bigger lover of Thai food. However, there are few in the county I reside in - Prince Georges County, MD. There was a small place in Forestville over ten years ago, but it disappeared.
Recently my husband and I have been frequenting a restaurant that has a variable name - something like 'Thai Romance', a bit over the Charles County line in Waldorf. The food is good, but it seems they resort to karaoke to fill seats on weekends. When in D.C., we just hit the place closest to work - one of the Sala Thai chain on U St.
This week I hope to branch out and find a few other spots. an even larger carrot is the drawing for a trip for two to Thailand. The contest and celebration is in honor of Thai New Year,
Songkran
sponsored by the Thai embassy. Local Thai restaurants will offer special menus at discounted prices along with traditional Thai New Year's performances.
The
embassy website
has a
pdf coupon
to take to the following list of participating restaurants in Metro D.C.
Washington, DC
· Asia Nine (L, D) 915 E Street, NW, Washington. Ph: 202-629-4355
· Bangkok Bistro (L, D) 3251 Prospect Street, NW, Washington. Ph: 202-337-2424
· Bangkok Joes (In Restaurant Promotions, No Coupon Needed) 3000 K Street, NW, Washington. Ph: 202-333-4422
· Mai Thai (D) 1200 19th Street, NW, Washington. Ph: 202-452-6870
· Tara Thai (D) 4849 Massachusetts Avenue, NW, Washington. Ph: 202-363-4141
· Thaiphoon (D) 2011 S Street, NW, Washington. Ph: 202-667-3505
· Thai Tanic (L, D) 1326-A 14th Street, NW, Washington. Ph: 202-588-1795
Maryland
· Ban Thai (D) 340 N Charles Street, Baltimore. Ph: 410-727-7971
· Bangkok Garden (D) 4906 St. Elmo Avenue, Bethesda. Ph: 301-951-0670
· Bangkok Garden (D) 5810 Robert Oliver Place, Columbia. Ph: 410-992-9553
· Pana Thai (D) 7224 Muncaster Mill Road, Derwood. Ph: 301-990-8501
· Tara Asia (D) 99-D E. Montgomery Avenue, Rockville. Ph: 301-315-8005
· Tara Thai (D) 4828 Bethesda Avenue, Bethesda. Ph: 301-657-0488
· Tara Thai (D) 12071 Rockville Pike, Rockville. Ph: 301-231-9899
· Tara Thai (D) 9811 Washingtonian Boulevard, Gaithersburg. Ph: 301-947-8330
· Thai Pavilion (L) 29 Maryland Avenue, Unit 308, Rockville. Ph: 301-545-0244
Virginia
· Born Restaurant (L,D) 144 Maple Avenue W., Vienna. Ph: 703-255-5800
· Chao Phra Ya (L,D) 2465 J-I Centreville Road, Herndon. Ph: 703-713-0103
· Duangrats (D) 5878 Leesburg Pike, Falls Church. Ph: 703-820-5775
· Mai Thai (D) 6 King Street, Alexandria. Ph: 703-548-0600
· Rabieng (D) 5892 Leesburg Pike, Falls Church. Ph: 703-671-4222
· T.H.A.I. in Shirlington (In Restaurant Promotions, No Coupon Needed) Campbell Avenue, Arlington. Ph: 703-931-3203
· Tara Thai (D) 226 Maple Avenue W., Vienna. Ph: 703-255-2467
· Tara Thai (D) 4001 N. Fairfax Drive, Arlington. Ph: 703-908-4999
· Tara Thai (D) 7501-E Leesburg Pike, Falls Church. Ph: 703-506-9788
· Thaiphoon (D) 301 S. Joyce St., Arlington. Ph: 703-413-8200
---
http://oca.thaiembdc.org/webpages/ThaiRestaurantWeekDC.html